In the United Kingdom, we are incredibly lucky to have universal access to the NHS, the National Health Service. For many of us, the medical services they provide across the country have been literal lifesavers.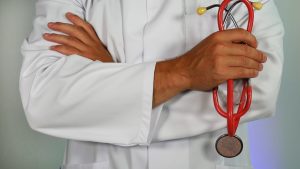 However despite the best intentions of doctors and nurses in the service, things can, unfortunately, go wrong. In a hospital situation, things going wrong can be dangerous – and even fatal. Even the NHS, as an institution, needs to be held to account where necessary. It's important to determine if you have been the victim of medical negligence while undergoing treatment.
If you feel you have a claim against the NHS, we can help. At Mark Reynolds, we have an unprecedented level of knowledge and experience when it comes to pursuing medical negligence claims with the NHS, and we can help you to win your case on a no-win, no-fee basis if you have been put in danger.
Can I Complain About the NHS?
The NHS is often seen as an infallible institution by some. Indeed, its merits and abilities should never be ignored or belittled, because the UK's universal health care scheme provides a lifeline for many that could otherwise never afford such health services. Since 1948, the NHS has been tirelessly treating patients and saving lives in the UK.
But the NHS isn't necessarily a free service, because we all pay taxes that contribute towards the running costs of this public organisation. While the amount you pay is negligible to what you generally get in return, this doesn't mean that you aren't allowed to speak out. In fact, to be a successful institution, like any service, business or company, the NHS needs feedback – both good and bad – so it knows where it can improve.
While reports of understaffing or underfunding might leave you nervous about speaking out, it's morally correct to lodge a complaint if you feel you have a medical negligence claim against the NHS. Not doing so may put other people in danger in the future, and could lead to services deteriorating further if no one speaks out about it.
PALS: Patient Advice and Liaison Services
It's for this reason that the NHS initiated its Patient Advice and Liaison Services, an office that gives patients the ability to provide feedback on the services they've received from GPs, doctors, and nurses.
PALS, as it's abbreviated, provides a confidential avenue of support for patients, which operates independently of staff and medical services. This means that you don't need to be afraid of approaching them. If you have an issue, worry, or problem with the treatment or service you've received from the NHS, then PALS are there for you.
The aim of PALS is to help the NHS to grow and develop, by listening to the needs of the patients it's designed to help. You can provide positive feedback or you can inform them of unsanitary conditions or improper treatment. Importantly, PALS can help you to lodge official complaints with the NHS if you feel that your issue is a matter of medical negligence.
Making Complaints to PALS
Each individual NHS Trust has its own dedicated PALS office, and it's here that you must make any formal complaints in the first instance. From these trust offices, complaints can then be resolved locally or escalated further. You will be able to make complaints regarding a GP practice, dentist, hospital, or even a pharmacist.
If you have been the victim of medical negligence, then it's important to make the complaint as soon as possible. You must record as much information as you possibly can and make a note of any staff that were involved, and anyone else who was present or who could act as a witness.
The PALS office will arrange a meeting with you if this isn't a complaint that can be resolved easily or isn't just feedback. It's important that you attend this meeting to register your complaints in person, as this will help greatly in the future if you can then seek reparations because of the incident.
You can take family or relatives to the meeting, or even a solicitor if we feel that it is serious enough at first to warrant legal advice at this stage.
Once the meeting has taken place, PALS will take steps to resolve the incident. This is where, if you haven't already, you should contact Mark Reynolds, as we will be able to offer advice on what steps to take next. While things might be resolved quickly, if we feel that you have a claim that can be made and that you deserve compensation for the negligence you suffered, then we will act accordingly to make sure you receive that compensation and so that others in the future won't suffer the same negligence.
Why Choose Mark Reynolds Solicitors?
At Mark Reynolds, we have an experienced and professional team of solicitors that are well versed in working on medical negligence cases. If you believe that you have a case, we advise you to first submit a complaint to the NHS PALS. Lodging a formal complaint with the Patient and Liaison Services will help us to better assess and to then win your case.
We work on a no-win, no-fee basis. For that reason, we make sure to provide the best quality advice and service to our clients. Our team are experts in the field of medical negligence and have a high degree of training that provides them with the skills necessary to win cases.
Get in Touch Today
If you believe that you or a family member have been the victim of medical negligence while being treated for injury or illness by the NHS, then contact Mark Reynolds and speak with a member of our professional, experienced team today.
It's completely free to enquire and for us to give you an assessment. If we believe you have a claim against the NHS, then we can work on a no-win- no fee basis. That means that you have absolutely nothing to lose by giving us a call on 0151 525 7222.