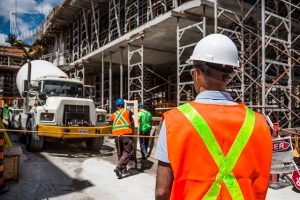 We spend a large amount of our lives in the workplace. We rely on these workplaces to be safe environments in which to work. We expect our employers to do all they can to protect us from illness and injury. Sadly, every year thousands of employees are injured in the course of their work or develop a work-related illness.
These can be minor, or merely inconvenient for a short space of time. Others can be life changing, in some cases even life limiting. When this happens the consequences for ourselves, and our families can be stark. We may no longer be able to work, we might have to make adaptations to our home, it may impact on our ability to look after children or fulfil other caring roles.
If you do have an accident at work through no fault of your own, there is legal redress and you may be eligible for compensation.
What is an accident at work?
The Health & Safety Executive (HSE) defines an accident at work as "an event that results in injury or ill-health".  This definition covers a wide range of incidents in the workplace that can result in injury or illness. This can include anything from tripping on a loose cable or slipping on an overly polished surface, through to exposure to hazardous chemicals, or developing an illness over many years of working in a dangerous environment.
There is a legal obligation on employers to take care of the health and safety of their employees. If your employer has failed in their duty of care, and this has led to you suffering an injury or illness, then if it's possible to prove they were negligent, you may be able to make a claim for compensation.
What responsibilities does my employer have?
Employers have a legal duty of care to protect their employees in the workplace. They might carry out this duty in a variety of ways. This might include:
Providing appropriate levels of health and safety training.
Providing adequate personal protection equipment (PPE) – such as hard hats, gloves, safety glasses and high-vis clothing.
Ensuring staff are properly trained and qualified in the use of equipment and follow safe working practices.
Carrying out regular maintenance and safety checks on any workplace equipment and machinery.
Conducting regular risk assessments.
Ensuring that appropriate hazard signs are displayed
What kind of accidents and injuries happen in the workplace?
The range of possible workplaces injuries is as varied as the different types of working environments. There are, however, certain types of accident that regularly appear in accident at work claims. These include:
Falls from height – certain professions, particularly those that make regular use of ladders or scaffolding, such as builders, window cleaners and tree-surgeons can be at risk of falling from height.
Slips, trips, and falls – these kinds of injuries can take place in all kinds of workplaces. They are frequently caused by loose cables, poor lighting, uneven surfaces, and spillages.
Manual handling injuries – these are the most common type of workplace injuries. According to the HSE they account for over 30% of all accidents at work.
Stress related illness – over 11 million working days a year are lost to anxiety, depression, and other stress related illnesses. It can be caused by workplace bullying, excessive workload, and unrealistic deadlines.
Road traffic accidents – a large number of the UK workforce is employed as delivery and HGV drivers. Unfortunately, they are often caught up in road traffic accidents as a result of workload pressures, poor training, or inadequate vehicles.
Tinnitus, deafness, and other hearing problems – noisy working environments and machinery can damage hearing if proper protection is not provided.
Repetitive strain injury – this work-related disorder can be intensely painful and can limit your ability to do your job.
Vibration white finger – this debilitating condition is caused by the lengthy use of vibrating machinery without adequate protection.
Can I claim compensation?
If it can be proven that any injury or illness caused in the workplace was as a result of employer negligence, then it may be possible to pursue a successful claim against them.  If they have failed in their responsibility to prevent your injury or illness from happening and negligence can be proven on their behalf, you would receive compensation paid from your employer's liability insurance.
How should an accident at work be reported?
If you are involved in any kind of workplace accident it should be reported to your manager as soon as possible. You should also make sure that the details of the incident are accurately recorded in your company accident book. If your company does not have an accident book, write down what happened and give a copy to your HR department. You should also keep a copy for yourself.
It's important to report the accident as it help provides evidence of what happened to you. Should you decide to make a personal injury claim, it can then be used to help support your case. Your reporting of the incident can also help to safeguard other people from experiencing anything similar. An employer should be willing to act on any findings that highlight the cause of your accident. Health and safety protocols should be examined and strengthened. If it's deemed necessary, any dangerous materials or hazards should be removed.
What other measures should be taken to help with any claim?
As well as reporting the accident to your employer there are a number of other measures you can take to help build up a body of evidence to support your claim:
Make sure you take photographs of any injury you receive, along with any equipment or trip hazard that caused your accident.
If anyone witnessed your accident, make sure you have their contact details.
Make notes about your accident. You may include drawings or any other evidence that you think might be helpful.
Ask any witnesses to make notes of what they saw, and to share those notes with you.
See a doctor
You should try to see your GP as quickly as possible after the accident occurred. They can then record the details of your accident in your medical records, as well as treat any injury.
Stress and mental health issues
It can be more difficult providing evidence for a mental health claim. To make a claim your condition would need to be a recognised psychiatric diagnosis such as depression, anxiety or post-traumatic stress. If you have received treatment from a psychologist, psychiatrist, or counsellor you may be able to make a compensation claim.
Grief or emotional upset are not usually considered serious enough conditions for damages to be awarded.
Keeping a diary of how your condition impinges on your daily life could be helpful.
What will my claim be worth?
The size of any compensation payment you receive will depend on the seriousness of your injuries, as well as any chance you might have of making a full recovery.  Your compensation payment might help to:
Recompense you for any lost earnings or future loss of earnings if your injury or illness is so bad that you are forced to take time off sick or are unable to return to work.
Pay for private medical treatment to enable you to recover as quickly as possible.
Reflect the fact that you have suffered pain and injury because your employer failed in their duty of care to you.
Repay you for any expenses that you've incurred that you would otherwise not have had to pay, such as the cost of travelling to hospital appointments.
Mark Reynolds Solicitors is here to help
If you've suffered an injury at work, you may well be feeling a little confused about what to do next.  At Mark Reynold's solicitors we have a team of experienced personal injury solicitors who specialise in helping people claim compensation for illnesses and injuries that have happened at work. We work to make sure you receive the maximum amount of compensation, and that you are given the support you need to recover from your injuries and ill-health.
Some complex personal injury claims can take a while to reach a settlement. If you are struggling to pay your bills while your claim is being assessed because you are not able to work, or if you need private treatment to recover more quickly, then we can ask the court to give you some of your compensation early to help with your immediate needs.
Our professional personal injury solicitors aim to give you good, solid advice in plain English throughout your claim. We will always keep you informed about the progress of your claim, and our specialist employment law department can provide advice about your employment rights if necessary.
We're here to hear your story, offer advice and, if appropriate, work on your claim. Why not get in touch today to find out more?