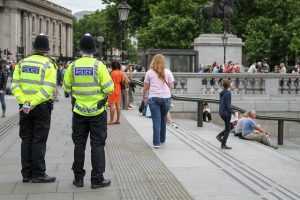 We are all very grateful for the service we receive from the police and other Emergency Services but there are times when mistakes are made by the Police or in other situations there can be misuse and abuse of power by the police. This can have serious effects on individuals. It also reduces the trust which we all have in those holding responsible and influential positions.
Mark Reynolds Solicitors deal in bringing claims against the police when mistakes are made or when they do not carry out their duties as Public Servants as they are legally obliged to do.
By bringing a claim against the police, it is our job to get the answers and the redress that clients and victims need for mistakes and other failures of the Police. Often this will be by way of a formal apology or most likely compensation for what went wrong.
What can I bring a claim against The Police For?
Compensation claims for Assault and Battery or Unlawful / Excessive Force by The Police
Compensation will be paid to victims who have been physically assaulted or even wrongfully had a Taser used upon them by a member of the Police.
Claims for Wrongful Arrest and/or Unlawful Detention False Imprisonment
A Police officer can make an arrest if he/she has reasonable suspicion and a reasonable belief that the arrest was necessary. If these grounds are not established, the arrest can be unlawful. If an arrest is deemed unlawful, it will usually be the case that an assault has taken place
Compensation claims for Malicious Prosecution
A claim for Malicious Prosecution is possible where an individual has been wrongly or maliciously prosecuted for an alleged offence. The prosecution in these instances may be the Police, CPS or even a complainant. Any prosecution brought must ultimately be determined in the favour of the individual who was prosecuted. This means that the prosecution must have been discontinued, there was an outright acquittal or there has been a successful appeal.
The prosecution must also have been made without reasonable and probable cause, was malicious by way of ill will, spite and improper motive.
The prosecution must also have resulted in damage to the person's reputation, freedom or property.
Compensation claims involving Human Rights issues.
The Police are Public Authorities under Section 6 of The Human Rights Act.
Claims that can be brought under The Human Rights Act may be for Inhuman and Degrading Treatment (Article 3), Bodily Integrity / Privacy of Information (Article 8), Deprivation of Liberty (Article 5) and Discrimination (Article 14)
Trespass to Land
A claim against the Police for Trespass to Land will occur if the Police make an unjustified intrusion on to an individual's land. This will usually happen when The police have entered premises to search or carry out an arrest. It is usual for the Police to rely upon justifying such action by the use of a search warrant or by relying upon The Police and Criminal Evidence Act 1984
Misfeasance in Public Office
A Police Officer is a Public Servant exercising power in their capacity as a Public Servant. If an officer intends to injure an individual by the exercise of that power, knowingly or recklessly acted in excess of that power and knew that the damage caused was likely to happen in the circumstances, then an individual may be entitled to bring a claim for compensation.
It is a priority of Mark Reynolds Solicitors to deliver the highest possible standard of client care and professional service. Any action against the police or similar organisation will in most cases be stressful and challenging.
We recognise this, and we make sure that every client is treated individually with the support they need to get through it.
One of our team will be happy to see or speak with you about an initial enquiry. We are able to arrange home, hospital or prison visits and have access to independent interpreters in a wide range of languages should they be required.
Taking Legal Action against the Police for Misconduct
There are times when the Police abuse their lawful powers such as arresting and detaining a person unlawfully without reasonable grounds for making an arrest or where the police use excessive force in restraining a suspect. Most cases against the Police involve assault, wrongful arrest and unlawful detention.
Sensitivity
We understand that if you have been the victim of police misconduct you are likely to feel distressed, angry, humiliated and aggrieved by what happened to you. We will, therefore, handle your case sensitively by carefully listening to you and dealing with your case with your injured feelings in mind.
Complaining about Police Misconduct
You can formally complain about police misconduct and we can help you with your complaint and with any appeal to the Independent Police Complaints Commission (IPCC). There is a 12-month time limit to make a complaint against police misconduct.
The IPCC can be persuaded to reverse Investigating Officers' decisions and to recommend disciplinary action including fines, superintendent warnings and apologies.
Police Code of Conduct
The Police code of conduct sets out the standards Police officers must follow. These include requirements to:
Act with honesty and integrity.
Treat members of the public and their colleagues with respect.
Not abuse the extraordinary powers and authority police officers are granted.
Act in a manner that does not discredit or undermine public confidence in the Police service.
Outcome – Compensation – Remedies
From the start of your case, we will advise you on the range of realistic outcomes you can expect.
We can advise you on the amount of compensation you may be entitled to claim and on any other remedy, you may be seeking or be entitled to.
Bringing your claim in time – Time Limits
There are time limits to bring a claim so it is important that you bring your claim in time so that you do not lose your right to take legal action.
Discrimination claims (race, sex etc.) must be issued at court within 6 months.
Human Rights Act claims must be issued within one year. If you have been assaulted the time limit is three years from when you were assaulted, and in most other cases, six years.
If you've been the victim of Wrongful Arrest, Assault, False Imprisonment / Unlawful Detention or even Race Discrimination by the police, or if you believe your civil liberties have been infringed, Mark Reynolds Solicitors can help you seek compensation.
For further advice on actions against the police or to make an enquiry simply complete the contact form or call us on 0800 002 9577.