Statistics have shown that every 30 seconds someone in the world is killed in a road accident. Over the years this figure has drastically risen through the greater use and accessibility of vehicles and the increased number of people now cycling. The severity of the injuries vary but they still occur on a daily basis which is why cycle safety is imperative for both drivers and cyclists. Cyclists have very little protection of the roads and are extremely vulnerable in the event of a collision. For this reason knowledge of the legal protection available for cyclists is becoming increasingly important.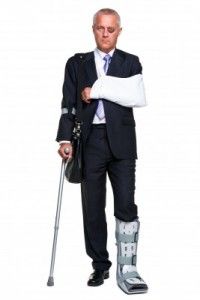 Generally people believe they have a good understanding of what would class as an 'accident' but the distinction can often be blurred, meaning that the exact circumstance of each case must be thoroughly looked into. Many suggest that if an ordinary person who witnessed the incident would class it as an accident then that is the distinction but unfortunately as it stands a satisfactory definition of the word is not easy to provide.
Therefore with the definition being somewhat unclear, it leaves a very broad scope for litigation concerning any injuries. Legally, in states in The Road Traffic Act of 1988 that an accident has occurred if injury is caused to any party or damage has been caused to a vehicle, animals and property. This acts covers all means of transports from public and private transport.
In terms of what needs to be proved, for a cyclist to have a personal injury claim certain aspects must be established before any compensation can be awarded. These elements consist of:
Identifying that there was in fact a duty of care owed by the party that caused the injury to the injured party. The duty of care is defined as an obligation that everyone has to not do anything that can foreseeably cause harm to another person.
The party that caused the injury failed to observe and carry out this duty of care. This can be difficult to prove but will generally need photographs, damage to the bicycle, medical report and police/ eye witness statements.
At Mark Reynolds Solicitors you can speak to one of our friendly advisers who can offer free advice into the claims process and how much potential compensation you could be entitled to if you have been involved in a cycling accident. Feel free to call one of our offices in Leigh, Liverpool, Runcorn or Warrington to discuss or book an appointment.