An employment contract is an official agreement between parties (an employer and an employee) to carry out a service and also to receive agreed payment for that service. Failure to follow this agreement can result in 'breach of contract'.
If a contract is breached in any way by either party, the first step is to try and work things out informally or through mediation. However, in certain cases, if an agreement cannot be reached, an employee may be entitled to compensation if they have made any financial losses due to the breach.
Here's a look at some examples of breach of contract and the general terms that are covered in an employment contract.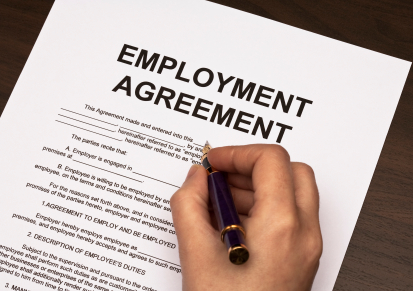 Types Of Breach
It's possible to claim compensation for various types of breach of contract. These can include:
Being dismissed without the correct amount of notice and non-payment in lieu of notice. Usually notice is 4 weeks. Equally, an employee cannot seek compensation if they decide to leave before notice is worked.
Non-payment of holiday pay
Non-payment of sick pay
Non-payment of travel expenses
Work Conditions And Duties
Compensation can also be claimed if work conditions and duties set out in the contract are changed unreasonably. Changes include job duties, pay, location and conditions that affect employees with childcare issues and disabilities. Compensation can also be claimed if an employer doesn't follow the correct disciplinary procedures set out in the terms of the contract.
Claims
In cases such as non-payment, it's better to claim for unlawful deduction rather than breach of contract. However, for unpaid issues in lieu of notice, it's better to proceed with a breach of contract claim as this is regarded as wrongful dismissal.
Are you dealing with an employment law issue at your place of work? Call Mark Reynolds Solicitors on 0800 002 9577 today to speak to our employment law advisors.